Schedule your estimate for auto body services in the Twin Cities by calling 651-490-6606.
When you have an idea of how much your repairs would cost, you can decide if you want to repair your vehicle, or see if it makes sense to submit an insurance claim.
Scheduling an appointment is highly recommended.  Our friendly Estimators are on site Monday through Friday 8am-5pm.  Please call to schedule.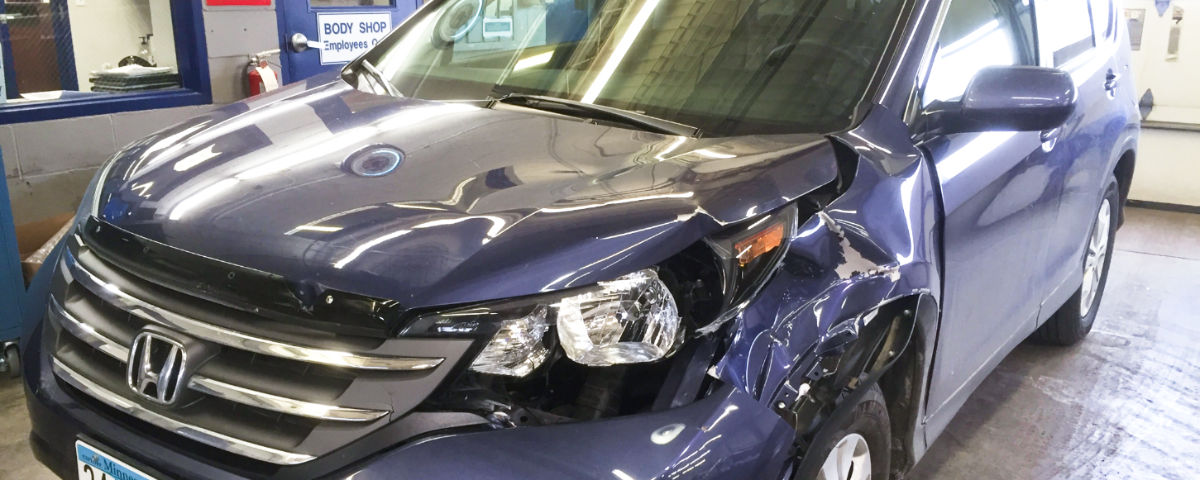 Questions about estimates
How does it work?
In some cases, the insurance company will want you to get an estimate through their own process. Don't worry! When you contact us, we will ask what insurance company you are using and we'll know how to work with them.
It used to be (30 or 40 years ago) that when you had a collision, you had to go around to three different collision repair centers, get estimates from each of them, and bring them to your insurance agent. The insurance company would then make a payment directly to you based on the estimates. This is now history! We can work directly with your insurance company and avoid unnecessary duplicate work.
Will my car total out?
This depends on three factors: the cost of repairs, the value of your vehicle, and the policies of your insurance company. Different insurance companies lean towards totalling out vehicles, whereas others will invest more in repairing the vehicle.
The value used to make the decision to total or not is made by the insurance company, not by the body shop.
It used to be that Hyundais, for example, had such a low resale value that they would total out after even a tiny accident. Nowadays, Hyundais are much more desirable and hold their value better, so even for a $20,000 repair, the insurance company might pay up.
Read more about collision repair through insurance.
How much does auto body repair typically cost?
Body damage repair on modern cars is usually quite expensive. Typically, the more unique a car's appearance, the more expensive replacement panels will be, and repairs can also be complicated by decisions that were made for design or safety purposes.
An accident doesn't need to look serious or have been dangerous to the passengers to rack up a big repair bill. Here in the Twin Cities, we see cars slide on ice at low speeds, and even these "small" accidents can result in an expensive dent in the wrong spot.
As a general rule of thumb, the faster the vehicle was going at the moment of collision, the more expensive the damage will be to repair. This is an extreme generalization, so don't be surprised if your vehicle's repairs are completely in a different range.
1-5 small dents: Under $1,000, if repairable using paintless dent repair
Parking lot fender bender: $1,000+ (we even see $8,000 fender-bender repairs)
Low-speed, neighborhood streets: $5,000+
City speeds: $10,000+
Highway speeds: $20,000+ (likely totalled)
The cost of repairs has gone up over time
In the 1980s and 1990s, cars were simpler. There were no backup cameras, wave radars, lane sensors, or sculpted LED headlights. Typical costs for a bumper, grille and headlight repair were in the $1,000 range. Nowadays, with the increased technology, custom panels, and fast driving speeds, even a simple fender-bender repair can be over $8,000.
For example, on a vehicle with custom shaped LED headlights integrated into the grille, a smashed headlight alone can cost over $4,000. The headlight and grille piece can only be obtained from a specific supplier, and is a single large piece, meaning it's not possible to replace just the headlight.
Questions? Contact our Minnesota body shop! It's fast, easy, and free.